Can we all just take a moment to admire the beauty that is Christina Hendricks (star of TCM's "Mad Men")?
Yes, we can.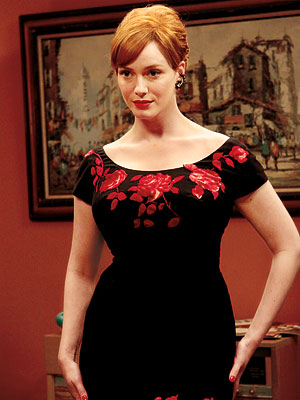 Christina Hendricks is another example of a woman actively and successfully working in the entertainment industry who is considered beautiful without conforming to the "typical Hollywood standard." She is pale, red-headed, and voluptuous as all hell. I think she is gorgeous, and her confidence in her body and self is apparent when you look in her eyes. Her beauty definitely comes from within.
Oh, and on a side-note, I leafed through ChrisCarlson's copy of the Sports Illustrated Swimsuit Issue today and was taken aback by the amount of photoshopping done to the models, especially in comparison to fashion mags: shockingly, THE WOMEN WERE NOT PHOTOSHOPPED BEYOND ALL RECOGNITION! These women, who are, in a way, representing the pinnacle of female beauty (to men, generally) do not need to be perfected. They are already perfect.
Bodies are beautiful just as they are.